Services
At each step, we care for the whole person.
Because of your support, we offer hope for those in need.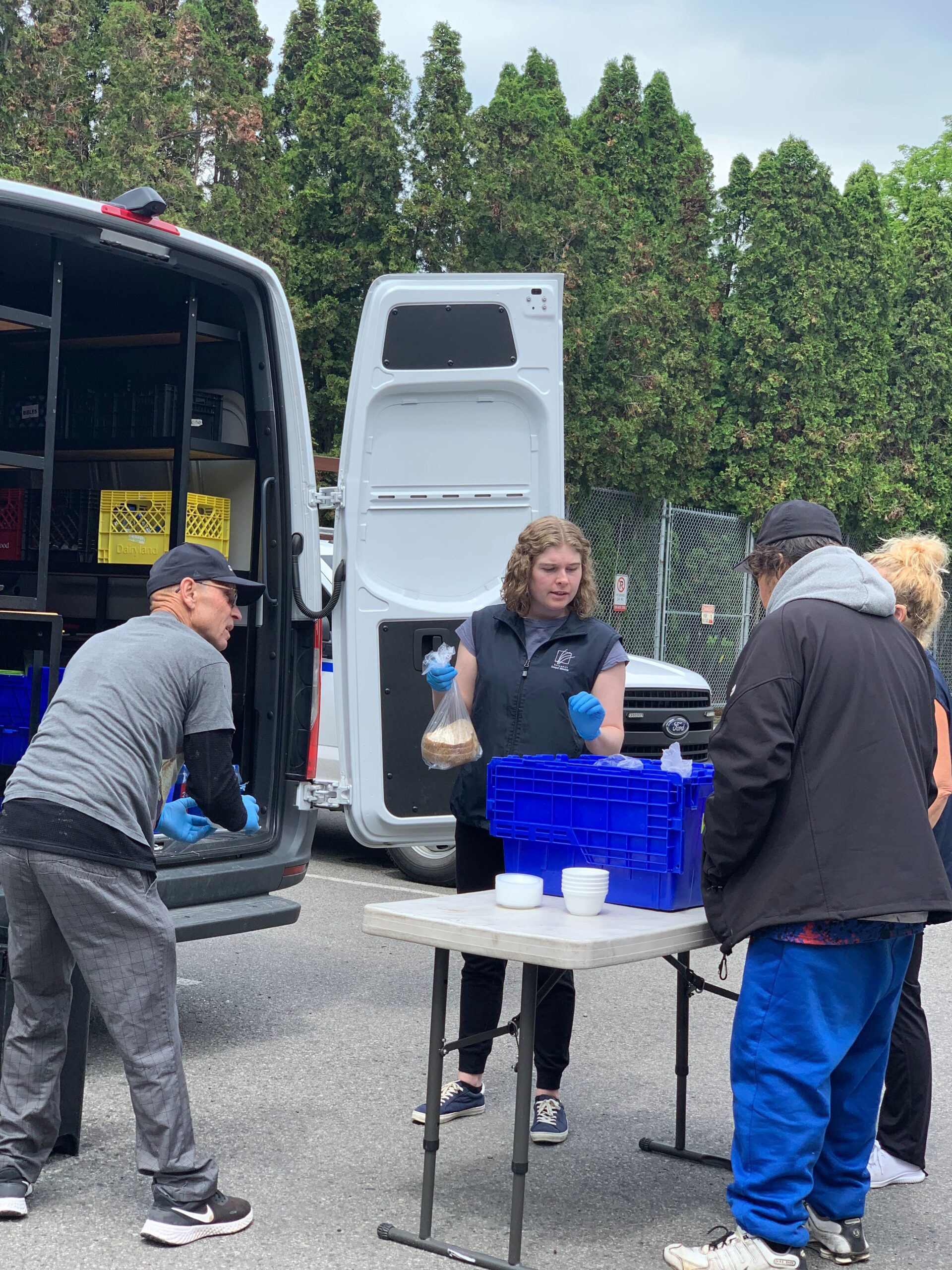 Community Outreach
Our Outreach team brings food, clothing, basic health care, and emotional support for those sleeping rough or experiencing episodic homelessness. We connect people to services with the goal of building trust – the foundation to bring them into shelter.
Our diverse emergency shelter facilities provide a continuum of care that meet people where they are at and move them forward toward their goals
The Leon Shelter offers 60 emergency beds for men, along with access to showers, laundry, hygiene supplies, and three hot and nutritious meals every day. The Leon Shelter is for those trying to maintain sobriety while living in shelter.
Address: 251 Leon Avenue, Kelowna, BC
Call: (250) 763-3737
The Bay Ave Community Shelter is a co-ed facility that offers space for meals, washrooms, and case management services.
Address: 858 Ellis Street, Kelowna, BC
Call: (236) 420-0899
The Gateway to Wrap-Around Care
Our caseworkers connect people with the opportunities they need to tackle whatever barriers they may face. We walk with them as they walk themselves out of homelessness.
Therapeutic and transitional communities
Our housing communities are centered on individualized support in overcoming addictions, learning life skills, and taking steps toward permanent housing.
Harmony Ministries helps women in crisis with their recovery needs and their transition to more independent lives. We provide a safe place for them to be among only other women going through similar experiences.
We provide four safe, secure, non-judgmental, and empowering facilities for women throughout Kelowna:
Harmony House
Shiloh
Selah 1 + 2
The Harmony and Shiloh houses are therapeutic communities focused on recovery. Selah 1 + 2 are affordable independent community living programs for women who want a sober environment to rebuild their lives. Please email the completed forms to Nancy at nancy@kelownagospelmission.ca.
The Momentum Community offers supporting transitional housing to men 19 years old and up, who show the desire and ability to achieve independent living after experiencing homelessness.
Our Transition rooms provide residents life-saving training through our case workers and community partners to inspire permanent housing, life management, and positive community involvement.
KGM Community Dental
At our dental clinic, we make essential oral health care accessible to all. Dental care brings restoration, freedom from pain, and dignity to those in need.
Clinic Offerings
KGM Community Dental offers dental services in our state-of-the-art facility:
Cleanings and general hygiene work
Check-ups
X-Rays
Extractions
Fillings
Dental Restorative Work
Low-income assistance
KGM Community Dental is available to individuals and families on a low-income budget or income assistance. We accept all government ministry dental coverage, healthy kids, persons with disability plans, and First Nations health authority.