A Message from Randy Bob
Looking back on another year, we are grateful to everyone who helped bring our neighbours from homelessness to wholeness! Christmas is almost here and at Kelowna's Gospel Mission this means a chance to celebrate Christ's unconditional love, and gather as a family with those who have nowhere else to go.
This year, we have partnered with the city through their Journey Home initiative and are working to come up with long-term solutions to the housing crisis.
Meanwhile, homelessness in Kelowna is increasing and a warm place to sleep can be the difference between life and death. To meet the growing need, every inch of our current building is being used, and we are considering new growth strategies.
Your gifts help people move towards wholeness. As we remember all that Christmas means to us, let's remember to reach out to those less fortunate as God reaches out to us.

2017-2018 Year in Review
Your generosity helps feed the hungry, shelter the homeless and help the hurting. Together, we are restoring wholeness to those who need most. Thank you for your support.
At Kelowna's Gospel Mission, we recognize that we can only help people move from homelessness to wholeness through the generosity of our donors. As such, we take accountability seriously and want you to know how great an impact your generosity has on people's lives here at the Mission. Here is what you made possible last year.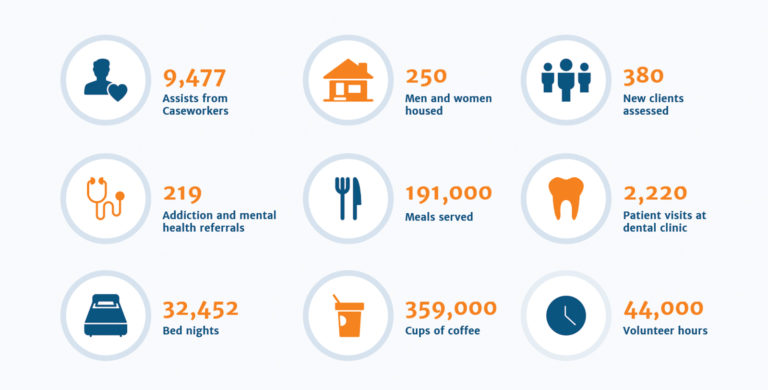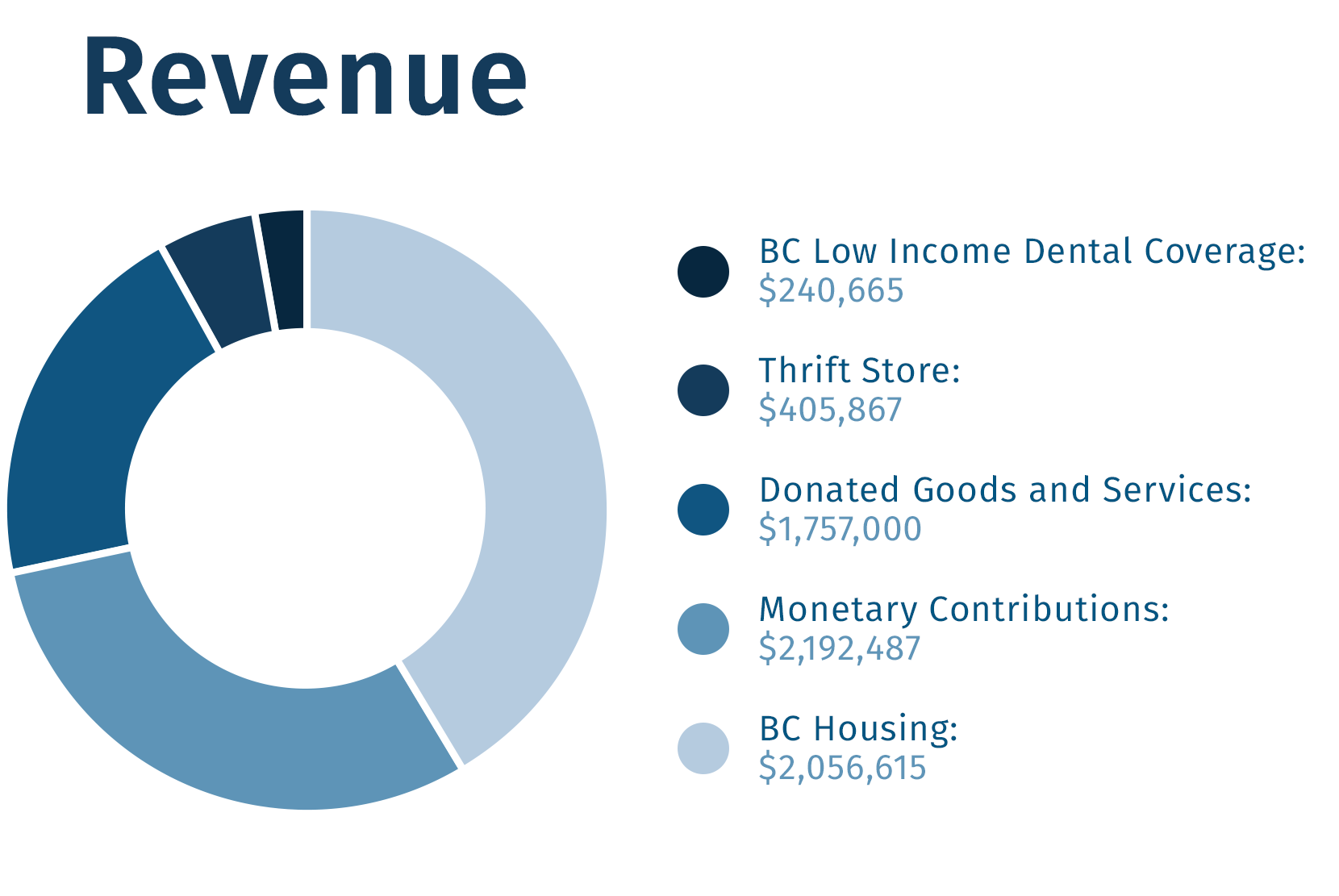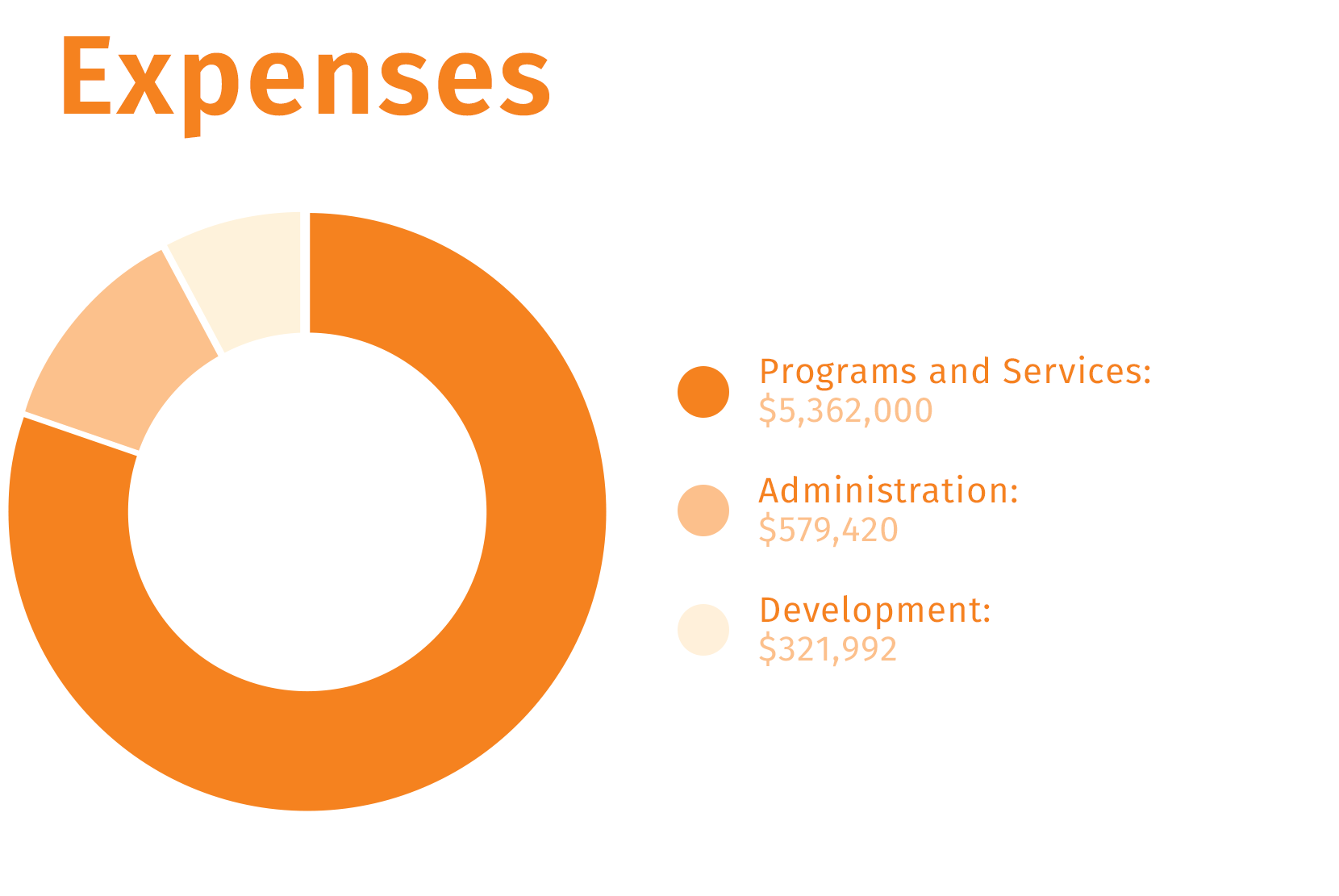 Finding God's Grace in the Darkness
Tony grew up with loving, supportive parents, but somehow as a teen, he always felt a magnetic pull towards the bad crowd. He started to experiment with drugs and alcohol. All too quickly, it took hold and soon he had become entrenched in a world of drugs, which eventually led to a life of violence and crime.
Throughout his 20's Tony knew he was out of control, but couldn't seem to find his way out. Then, on one dark day, the chaos and crime boiled over.
"I was a cocaine addict, and I was selling to afford my using," says Tony. "I was leaving a dealers' house when a dispute erupted over money. I was on drugs and wasn't in the right state of mind. I just wouldn't back down and neither would they."
Tony spent the next 11 years in prison.
When Tony finally got out of jail, he was homeless and felt totally disconnected from the outside world. Sitting down to a hot meal in our community was the beginning of a new chapter for Tony, but it was anything but easy.
"The amount of healing I had to do seemed impossible," says Tony. "I didn't feel like I deserved love."
Little by little, Tony developed trust and rapport with his caseworkers at Kelowna's Gospel Mission. He signed up for the Momentum Ministries recovery program which he embraced fully, determined to build a better life for himself.
Although shedding the past and healing from trauma has been a hard journey, there have been moments of joy along the way. The biggest change in Tony has come in quieter moments, through prayer.
"Devotions have become an important time for me," says Tony. "When I'm alone with God, it really sinks in that I have been given a great opportunity here, and I don't want to waste it."
Today, Tony is in line for affordable housing and is ready to start looking for work. There is still a hard road ahead as Tony continues to heal from addiction and the ravages of his former life.
"There are no words to say how grateful I am for this second chance," says Tony. "The love and support I've been shown is what's made it possible to believe in myself. In everything I do, I want to give back and live a life to honour this gift that has been given."

Looking Ahead to Christmas
After a tough year, our guests are more excited than ever for Christmas at Kelowna's Gospel Mission! We're getting ready to prepare our annual dinner of turkey, ham, stuffing, mashed potatoes, cranberry sauce, veggies and pie—but we need your help!
Just like last year, we will be serving our holiday meal to residents at our shelter and delivering all other Christmas meals to-go for people in need around our community. You can ensure everyone in Kelowna enjoys a festive holiday dinner by making a special gift today.